Finn-Korkki Oy
From 1868 to Today and beyond!
Why Finn-Korkki?
One-stop shop

Quick and reliable service

Unique depth of knowledge

We manufacture not only caps and closures but machines and equipment for closing all types of ring pull caps.

Our wide variety of bottle closures include RingCrown caps, RipCap ringpull caps, LuxTop aluminium closures, Crown cork bottle caps and plastic bottle caps.

We have proven ability to design and create caps from scratch to meet your unique needs!

We have in-house printing facilities with prepress and offset printing lines, which makes our cap decorating service quick, smooth and reliable.

We strive to give companies of all sizes a personal, flexible and high-quality service.

We're known to reply to any enquiries swiftly and we work hard to find the best cap solution with quickest production and delivery options for customers all over the world.

With decades of experience in manufacturing metal bottle caps Finn-Korkki delivers a unique depth of knowledge.

We have been manufacturing and exporting products for decades now. Through all these years we've gained a serious amount of production knowledge combined with expertise in the export process and experience of export to over 60 countries, see map.

We understand the smallest details, documentation and logistics of many export markets.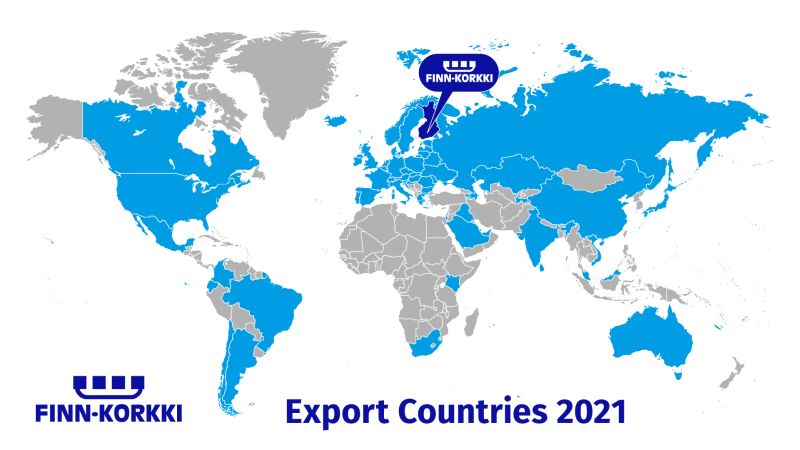 Finn-Korkki is approved under ISO 9001 quality, ISO 14001 environment, ISO 45001 health & safety at work and ISO 22000 HACCP standards. Certificates can be downloaded from the download box on this page. You can read about our sustainability programme and how Finn-Korkki support the UN Sustainable Development Goals here.
Our values – things we practice every day!
Finn-Korkki's values come from these words: to help, to try, to care, to be interested, to be honest, to get excited & to improve. These are the things we practice every working day.
Development
We are curious, with a desire to try new ideas and concepts in order to improve our company, the products produced and our business processes to meet our customer's needs.
Honesty
We trust each other, and our customers can trust us. We deliver what is promised and aim to exceed our customer's expectations every time.
Teamwork
We help and care for our customers, their needs and each other, together making a strong team. We are enthusiastic about new ideas and like to succeed with new things.
We strive for the highest quality products and personal service
"As a first time order, all technical information and details were given in time, the product is great, and commercial service is efficient. Looking forward to another order."
– Customer feedback, 2022
"Great people, great service, great product... what more can I say?"
– French Craft brewer, customer since 2018
"Fast, efficient and good communication. Always helpful."
– Craft brewer, customer since 2018
"... was delivered quickly and safe."
– West African bottling plant
EXPERTISE IN Ring Pull Caps, Sealing Machines and Crown Cap Bottle Closures
Finn-Korkki is a Finnish, family-owned company with its roots extending back to 1868. Our long experience of designing and producing ring pull closures and ring pull capping equipment gives a unique depth of knowledge. This is reflected in the level of service and support given to customers. Continuous research and development of bottle caps and ring pull cap sealing machines, ensures customers get the highest quality products in the market.
Offering Europe's broadest range of ring pull bottle caps and ring pull capping equipment. Our main products are ring pull bottle caps, ring pull cap sealing machines, luxury aluminium closures and crown cork bottle caps. Metal outdoor candle covers are made for the Finnish market and plastic bottle caps are supplied to the Nordic countries.
Contact Finn-Korkki for more details, send an enquiry.